UX UI DESIGN FOR THE WEB INTERFACE

myday web design interface, including dashboard design and meeting document edit screens.
To view the mobile app version click here
Individual project
UX UI & Interaction design
2020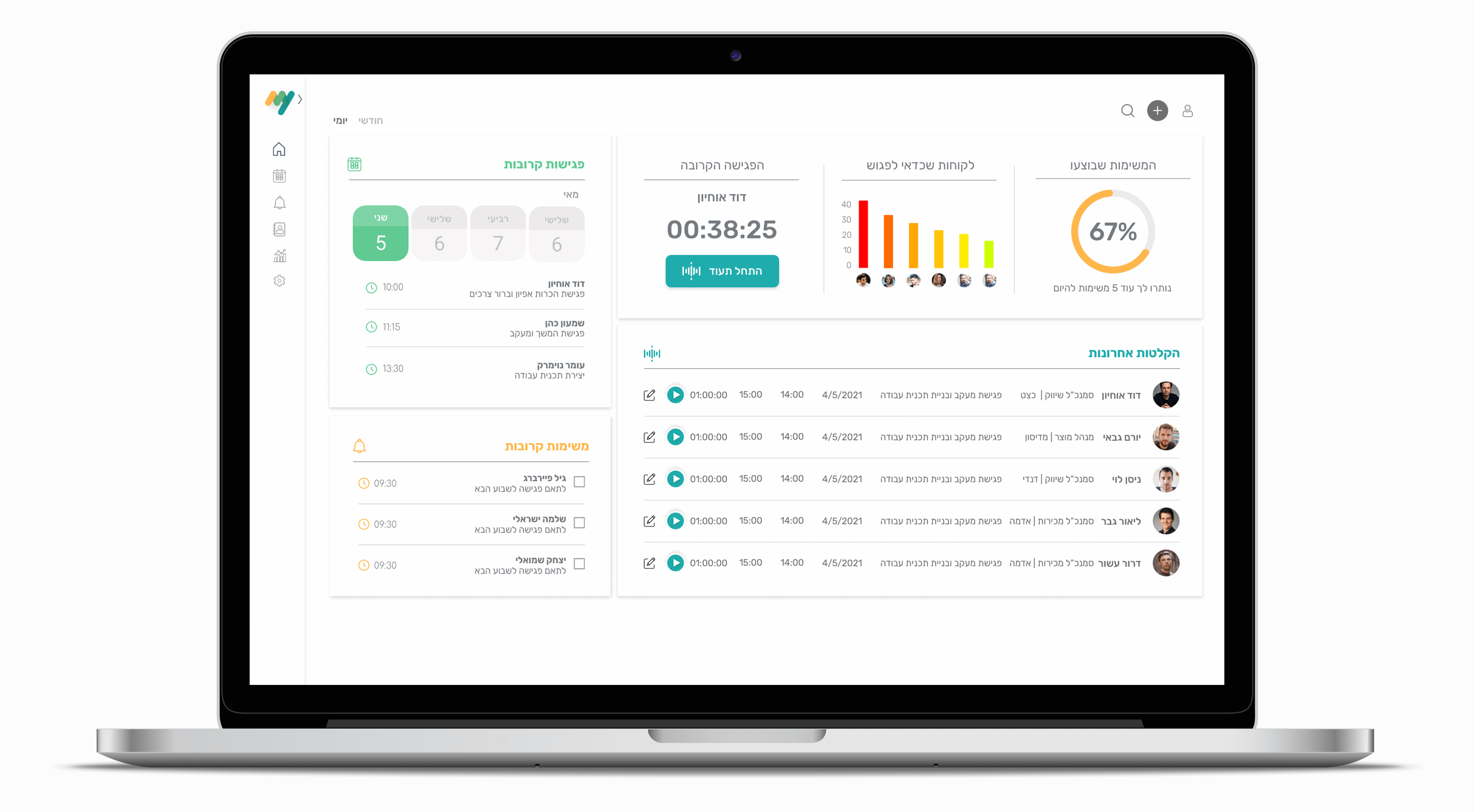 Challenge
Keeping track of tasks  and meetings is challenging, there are lots of tools but they do not interface with each other, and even when they connect and work with each other, in practice you work more in running and managing the tools instead of doing the work itself. The myday app combines three different apps into one.
Solution
A solution that combines meeting log management, meeting documentation, and "to do iist" task management, are integrated in one interface, which relies entirely on automation, such as automatic recording and transcript of the meeting by consent.
User survey & questionnaires
A survey of users and questionnaires was conducted for the target audience, the survey was delivered to 30 participants who matched the target audience, potential users whose meetings are part of their work day as part of their daily routine. 79.3% of those surveyed answered that they document their meetings, and each of them reported that they document the meetings manually by email / word, page and pen and other interfaces.
Over 23 survey participants reported that their time was not utilized optimally. Over 41% of survey participants reported spending between 20 minutes to 3 hours a day summarizing and documenting meetings they performed. When asked what would help them optimize their time and make the most of it, they replied "Synchronize information from all applications related to scheduling / reminders and tasks in one place" "One convenient interface for documenting appointments, tasks and time management that can be connected from both desktop and phone."
Share the meeting documentation
Managing there appointments
Spend at least 20 minutes a day documenting an appointment
Spend between 20 minutes to 3 hours on documenting a meetings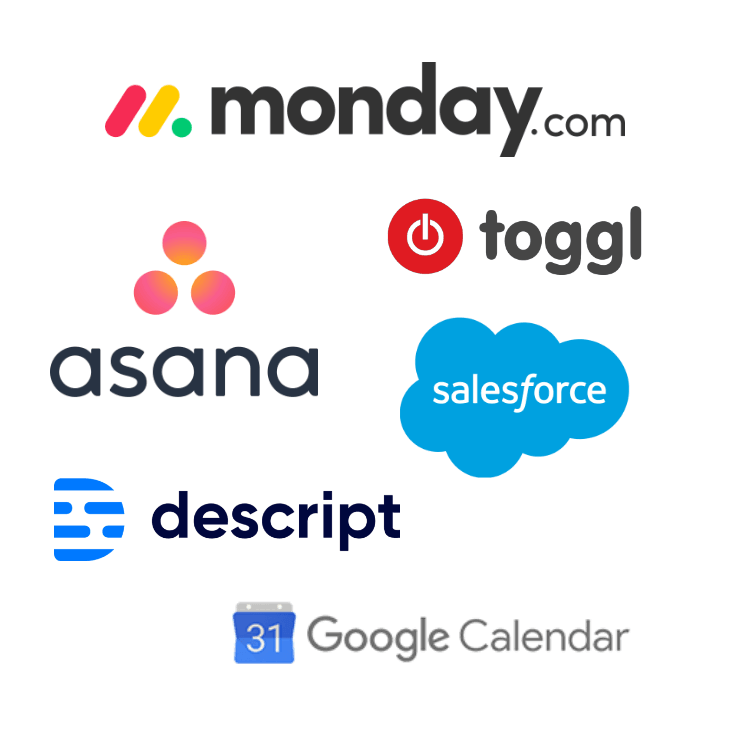 My market research has focused on existing economies today for time management/ tasks/projects  such as "any do", "googele calender", "monday", "asana", "toggl" and more. I learned what exists and what is missing, at the same time I examined crm systems for customer management and call recording interfaces. I was looking for an interface that allows documenting meetings and transcripts but without success.
I also looked at an interface that allows recording and editing of videos that include transcription such as ״descript״.
Below is a comparison of the features on the platforms.
| | | | | | | |
| --- | --- | --- | --- | --- | --- | --- |
| | | | | | | |
| Calendar Management | v | v | v | v | v | x |
| Task management | v | v | v | v | v | x |
| Contact Management | v | v | v | x | v | x |
| Meeting documentation | x | x | x | x | x | v |
I created the main user flow for the product to help display the complete path a user takes when using it.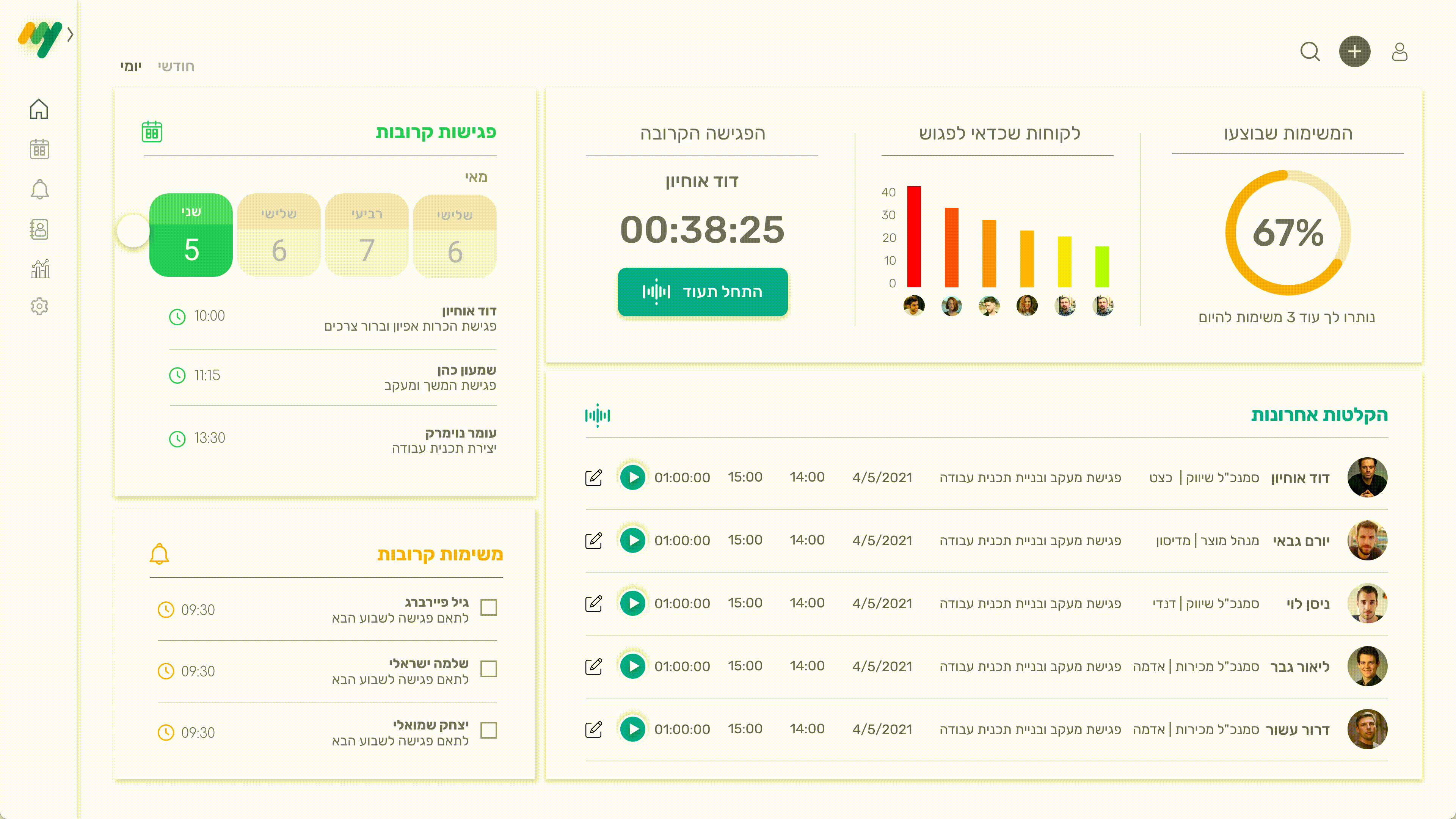 Dashboard
The home screen contains a bit of each feature, its purpose is to give the user an overview of the indices in the interface and help him make decisions according to the urgency of execution.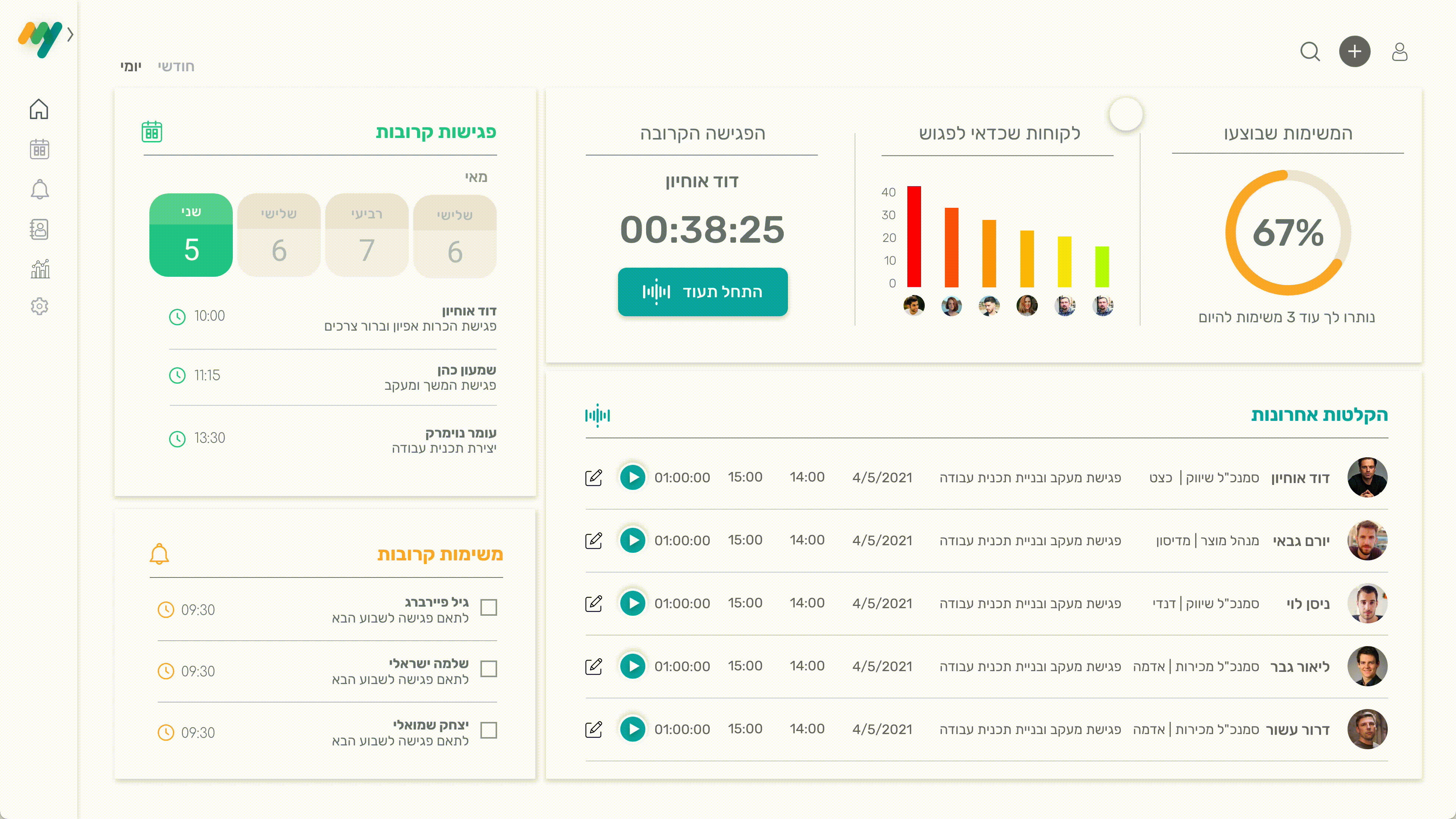 Client management
Easy access to customer list and contact details for quick contact, detailed list of documentation of meetings made with the customer
Meeting documentation
Editing the meeting documentation in a convenient and simple way. The user enters the client list, selects the client from the list – selects from the list of meeting documents the meeting he wishes to edit – selects the desired section and enters the content of the meeting transcript where he can listen to the recording and edit the content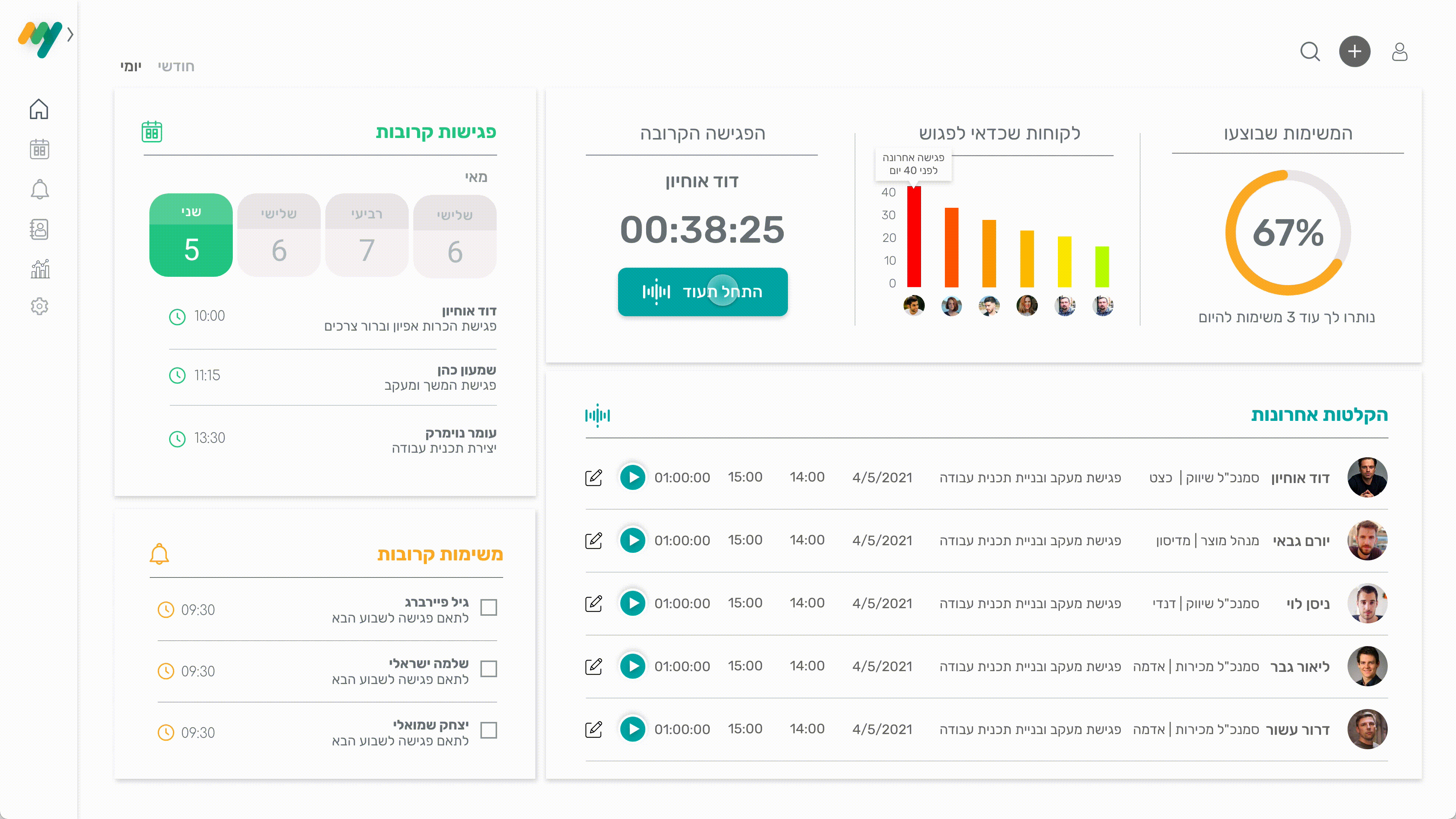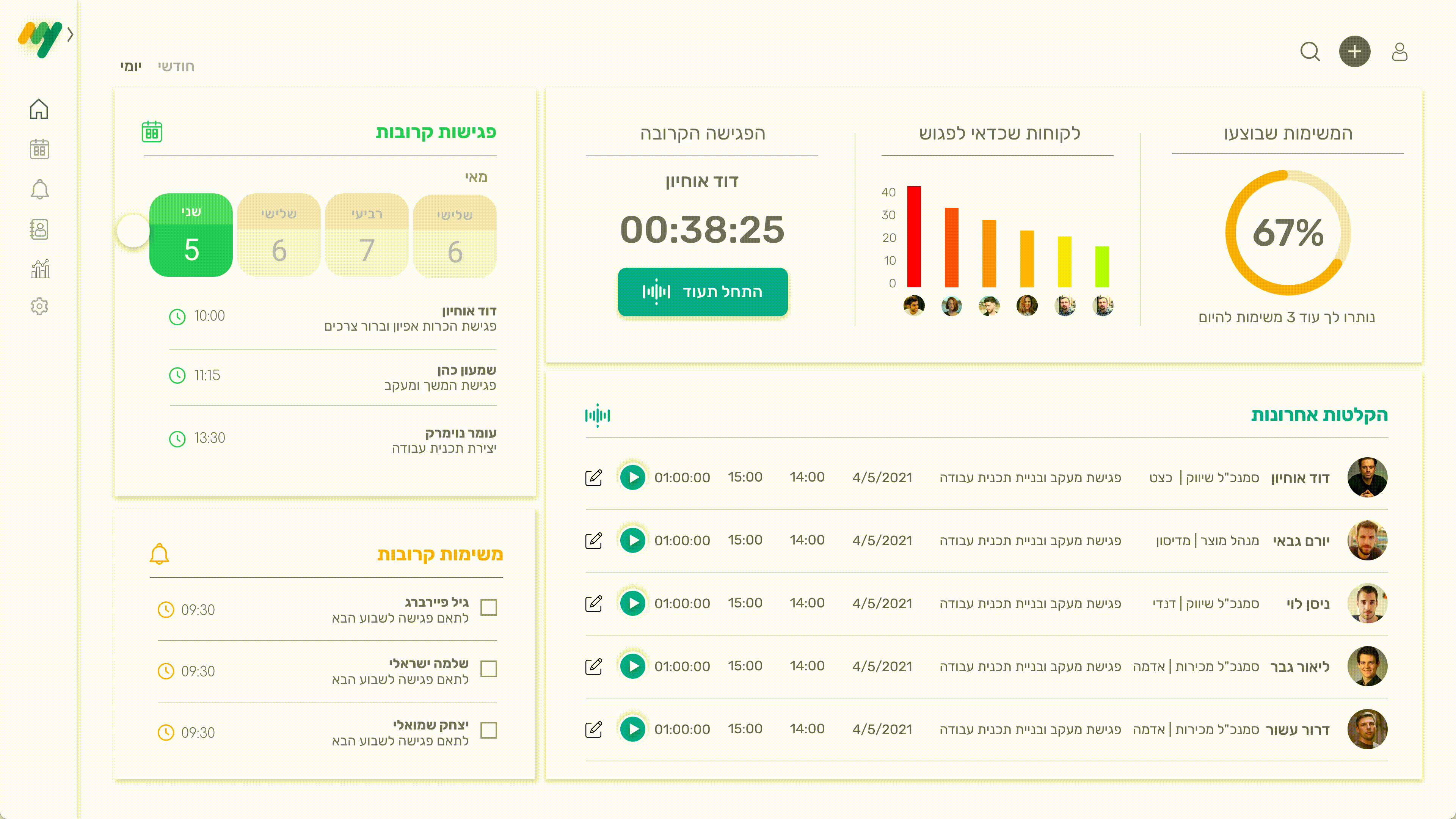 Editing a meeting
After the meeting the user can enter through the dash board in the last meetings or through the customer card to detail the meetings select the desired meeting to listen and edit it. The sessions are recorded and transcribed in sections according to the speech sequence and the system recognizes the voice of the session participants so that it is convenient to edit the content of the session in a simple way.
Reports and statistics
The user can get output of the reports and statistics about his activity. Reports such as: frequency of meetings with a client, how much time is wasted between meetings, how much time is devoted to editing meeting documents in the interface, average meeting duration, which of the customers he has not met in a long time, and more …
The reports are provided according to the user's needs according to customer filtering / time management and time period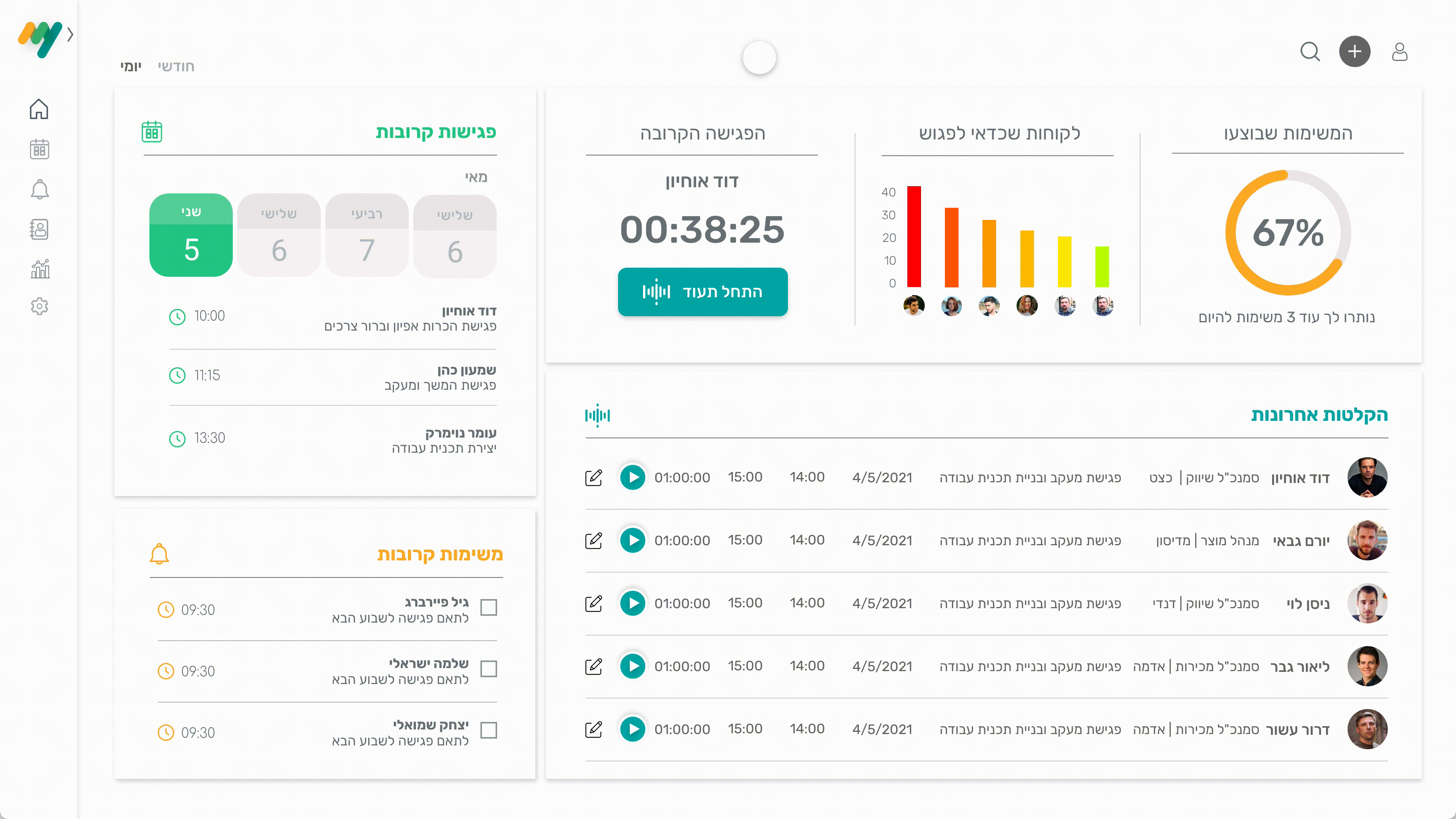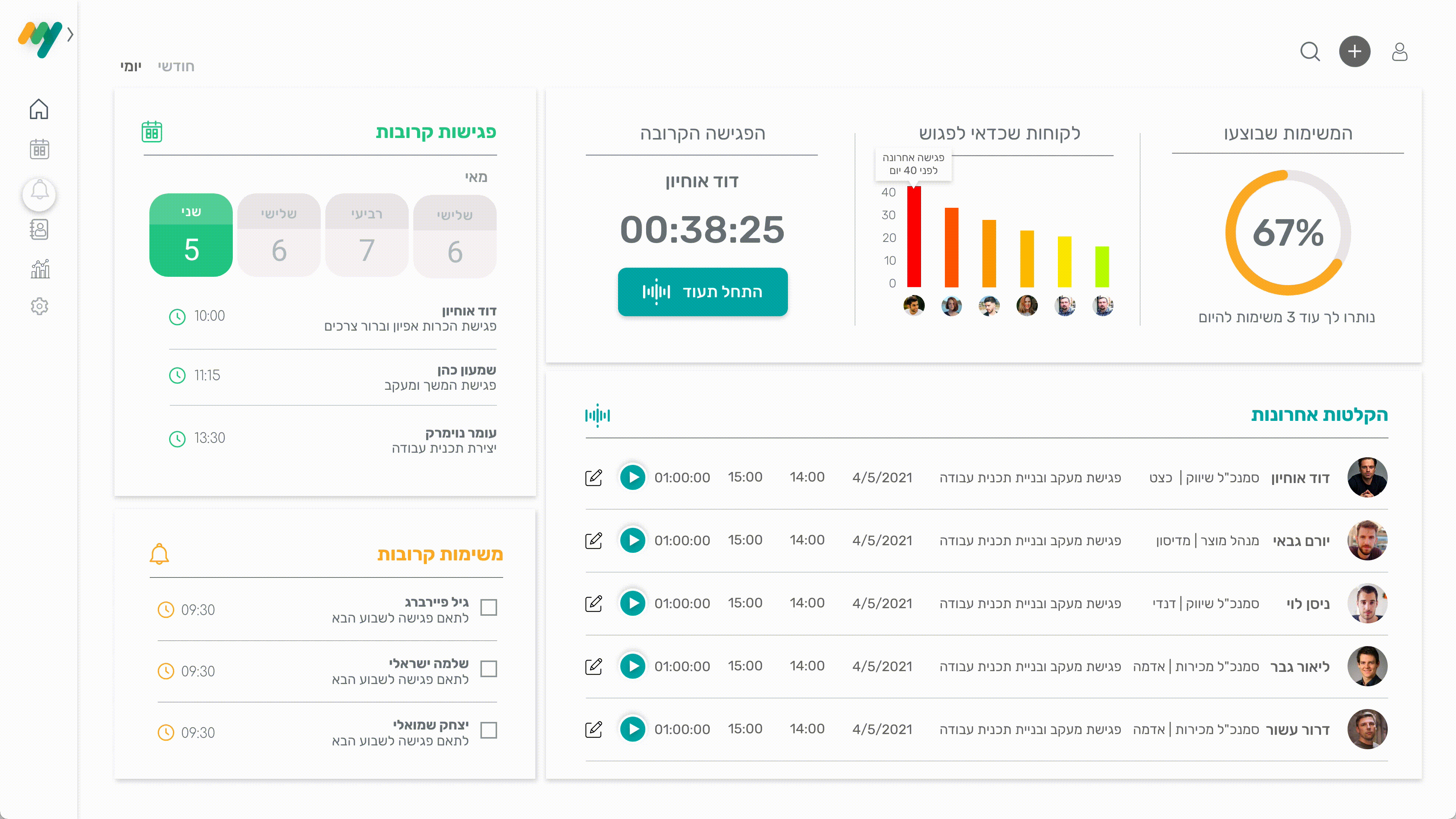 Task management
Task management and division by urgent and end of day, including creating reminders by times
Meeting schedule management
Managing a meeting diary, coordinating meetings in a convenient and simple way and sending a reminder to start a meeting. Option to choose between monthly and daily view for user convenience.